STATEMENT
My work with paper is about exploring personal and contemporary issues using organic and geometric forms, as well as elements sourced from my deconstructed paintings and cut-outs from previous collages.  I'm looking for connections between these materials through color, shape, texture and a balance of positive and negative space blending aesthetics and meaningful messages. Weaving in inspiration from music, society, and culture, my focus and intention are to bring the viewer into a world where simplicity is complex but never unapproachable.
ABOUT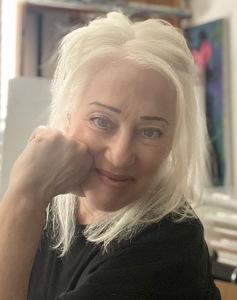 Born and raised in New York City, I began painting in early childhood and never stopped. After exploring a wide range of styles and mediums, I have chosen to focus on collage.  I use cut paper, my deconstructed paintings and sourced images to create new and reimagined works.  
I am grateful to have studied with the artist, Hananiah Harari, who in the 1940s, along with painting did collage. His was a mix of representational and whimsical elements forming his unique collage work. I am intrigued by his kind of storytelling, but for me, the abstract is the way to for me to express my thoughts. It's what I see on the inside that challenges me.
One of my inspirations has been the work of Stuart Davis. His work always looked to me like a puzzle, with shapes vying for their place. My work is also about finding solutions, — making order and creating unity.
I am a member of the NY Artist Circle and a former member of The Brooklyn Collage Collective.