STATEMENT
My work with paper is about exploring personal and contemporary issues using organic and geometric forms, as well as elements sourced from my deconstructed paintings and cut-outs from previous collages. I'm looking for connections between these materials through color, shape, texture and a balance of positive and negative space blending aesthetics and meaningful messages. Weaving in inspiration from music, society, and culture, my focus and intention are to bring the viewer into a world where simplicity is complex but never unapproachable.
ABOUT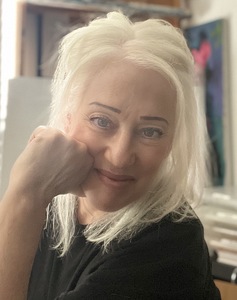 Elise Margolis is a visual artist born and raised in New York City. Margolis began painting at an early age and never stopped pursuing her artistic expression. Having explored a range of mediums, her current work centers on collage as an integral part of her creative practice. Margolis uses cut paper, her own deconstructed paintings and sourced images to create new and reimagined abstract works.
An early inspiration for Margolis came while studying under artist Hananiah Harari at The Art Students League. During his long career, Harari worked in both painting and collage. His mixed media collages from the 1930s & 40s blended representational and whimsical elements to form his unique style. While intrigued by his narrative approach, Margolis gravitated towards abstraction as a way to express her inner thoughts and emotions. She also found inspiration in Stuart Davis and Alexander Calder's energetic compositions. Their aesthetics inspired her to explore how organizing shapes, colors and lines could generate balance and unity.
As member of the NY Artist Circle and a former member of the Brooklyn Collage Collective, she helps foster a community around her medium. Margolis continues to make vibrant abstract collages exploring the intersection between the seen and the unseen.